PLANNING A SKI TOUR
Part two
In part one I started to look at the planning wheel to help you plan a ski tour, in part two I will look at the last remaining elements of the wheel.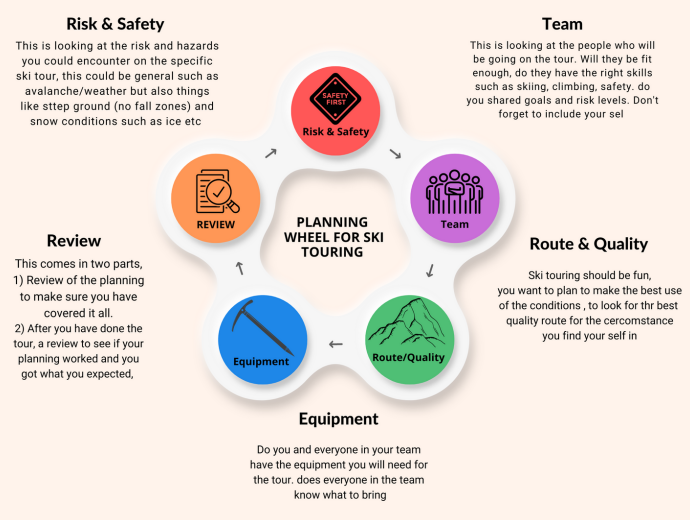 Now we get to the fun part, looking at pictures of snowy
mountains and picking a line.
I like to split this in to two parts, dreaming (long term)
and actual (short term).
Dreaming – can happen months before a ski trip, it's that
time where you're looking at guidebooks, websites and
watching YouTube videos, dreaming of where or what
you want to ski. This can help you decide on an area to
visit, by showcasing what's on offer, plus its good fun.
I like to do this before the season starts, finding lots of
ideas of things I would like to ski, it allows me to build
up a good database of routes in my head. I give myself
different scenarios with weather and avalanche
conditions. I find this helps later in the season, when I
am planning my next tour, I have seen the weather and
avalanche forecast and I know what aspect or altitude is
less risky to ski, I then think back to my data base of
ideas for a good match.
I find good resources for this are image heavy they tend
to get me thinking and inspired more, things like
guidebooks work well, there are some coffee table
books out there with examples of routes for many
different locations. Websites – often mountain areas like
to promote to tourist so have websites that showcases
what's on offer in certain regions (an example is my own
site ecrinscollective.com). Try searching 'best ski
touring' in an area you'd like to visit. Or local ski touring
Facebook groups. Youtube is good but doesn't always
give you route names or exact locations.
Actual planning – This is when you are planning the
specific tour or looking for a tour for the next trip in a
few days.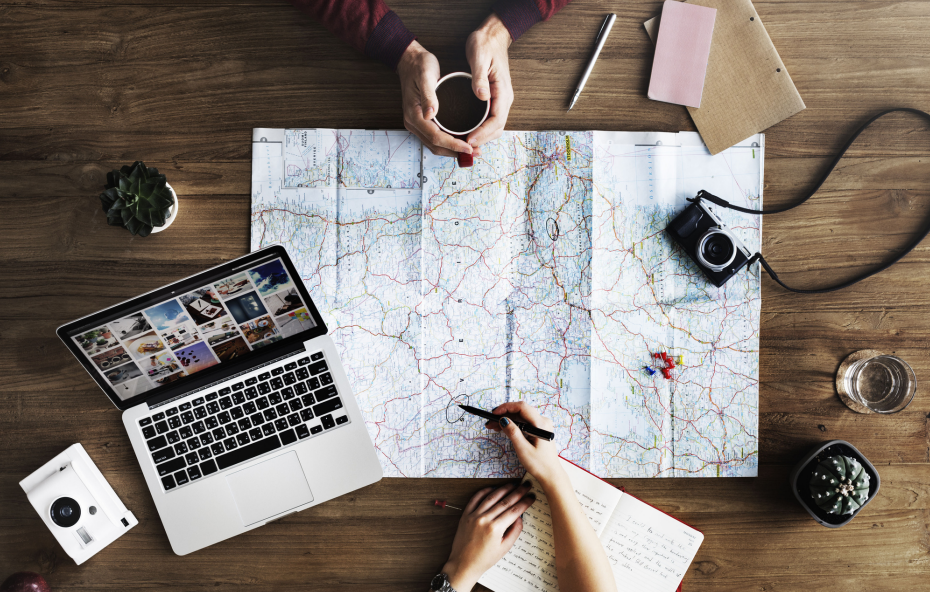 So where to start:
Guidebooks are great and the bread and butter of
planning, this is because they are written by someone
who is trying to help you plan your tour, also it is
written by the same person or team so you get to know
what they mean by words like steep and committing, but
they can't tell you about current conditions. They should
cover key information such as aspect, grade and height
gain.
Route sharing website – Such as camp to camp and
skitour.fr, these are where other skiers add routes.
These can have lots of routes on them and are great
source of information, just remember that there are a
wide range of people adding routes so the standard of
information can vary massively. Also many of these sites
will have a conditions page, where people post the
conditions on that day, again just remember one persons
5 star amazing snow is not always the same as
another's. A top tip – if you find a route that has been
skied that day and the feedback describes amazing
conditions and you're thinking of skiing it the next day,
others will be thinking the same, maybe see what aspect
and elevation it is and look for a route nearby that has
similar if you want a quiet day.
Fatmap and similar – These are mapping websites that
allows you to swap styles of maps, you can choose 3d,
standard mapping or satellite type maps and you can
put overlays on to show aspect or angle of terrain. This
makes it an amazing planning tool allowing you to get
lots of information about your route. If you have paid
subscription the maps can be downloaded to a phone to
use when out on a tour. As well as accessing the maps
users can also add routes, again like all crowd sourced
info you need to be aware of its limitations.
Map – A good old map, you should have one of these for
the area you want to ski, and they are great for planning
routes. When you get used to reading and interpreting
them they can enable you to plan tours that aren't listed
in the guidebooks.
Social media – again this can be a bit hit and miss as you
don't always know the experience or reliability of the
poster. However, if you find a line that you would like to
ski, you can always type the name in YouTube and you
may find a video of someone skiing it which can help
give you an idea of what it will be like, this is useful
when looking at steeper lines . Also check out Facebook
groups for skiing in the area that you want to ski, or
individuals who are local or skiing a lot in that area, ok
some people won't engage with you, but most people
are nice and are happy to share advice or routes they
enjoyed. Remember to compare this information with
other sources such as maps or guidebooks. Also beware
some users post old photographs of them skiing a line
just because its a cool photo, doesn't means it's the
current condition, if it doesn't say you can ask.
This is a simple one really, you need to make sure
that you know what kit is needed for the tour,
and that everyone knows what to bring. As well
as the essential transceiver, probe and shovel,
think about other stuff such as crampons or a
rope etc, and make sure everyone knows how to
use it. I once went skiing with a guy and I told
him that he would need climbing crampons. He
just borrowed a set but didn't know how to use
them. Don't forget group kit, don't assume
someone else is bringing the first aid kit or repair
kit. A check list is the best way to plan for this,
share this with the group.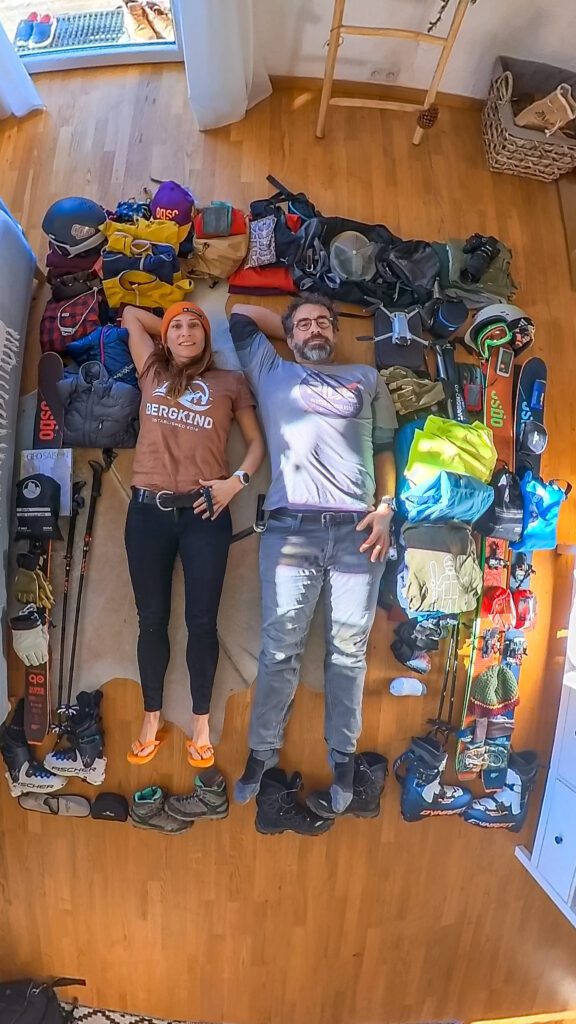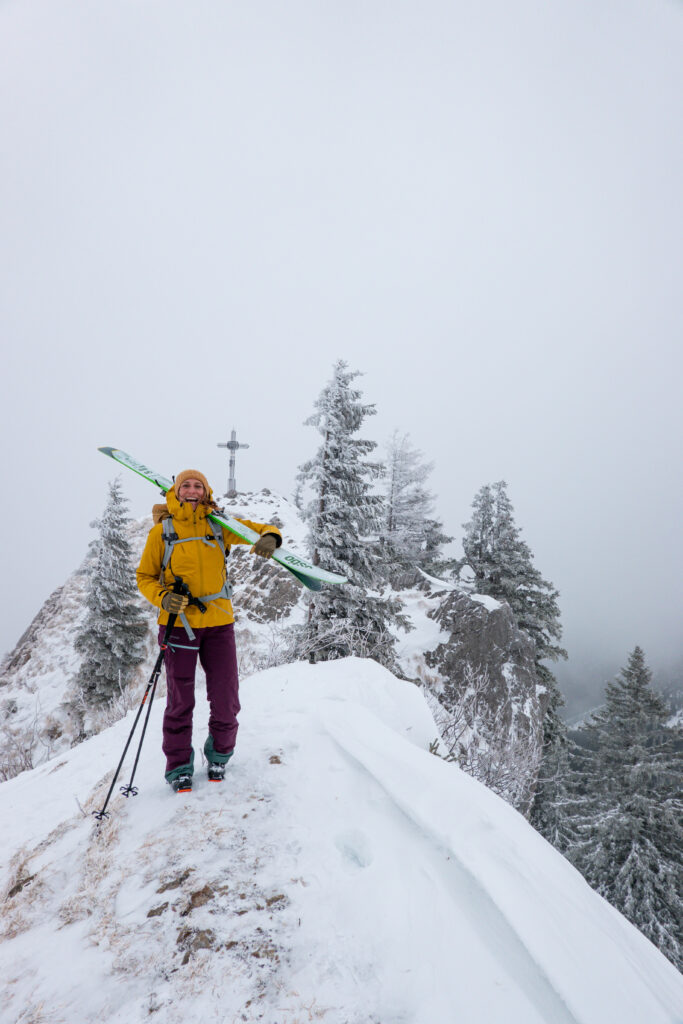 This comes in two parts, part one to review the
planning to make sure you have everything covered,
or if you still have bits of information missing that
you at least know this before you start your tour. The
second is after the tour, it is worth taking a bit of time
as a team to evaluate how the tour went, what
worked and what didn't, this will help you to fine tune
your planning. Although this article is long the more
planning you do the better and quicker you will
become at it, which leads to better ski tours.
Remember especially when starting out planning
tours, you won't get it right every time, we have all
been skiing on ice in the shade when we should have
been in the sun, but as long as you stay safe and don't
hesitate to turn back when the conditions aren't right
you will get better at it.
Author Rob Benton
Rob writes a free ski touring guidebook
to the Écrins and surrounding area, he
is also a rock climbing
instructor and coach a walking and
white water kayak guide
www.ecrinscollective.com