OGSO SKI ARE A COMBINATION OF MODERN SKI EXPERTISE AND INNOVATIVE DIGITAL ENGINEERING, TO A NEW GENERATION MOUNTAINEERING SKI, "THE VERSATILE SKI". MISSION
All OGSO-skis are constructed to perform at absolute highest levels on-piste and off-piste, with different widths and different weights, composed with the newest and innovative materials.
OGSO's target to be an all-round mountaineering ski, performing for all levels: excellent skier, ski instructor, mountain guide or a freeride beginner .
OGSO's achievement is the creation of an ALL-IN-ONE ski with extensive versatility, a ski that allows to be effective in all snow types: powder, crud, crust, slush, choppy, tracked, concrete, packed, ice and in each mode: fast, slow, steep, bumpy, or flat.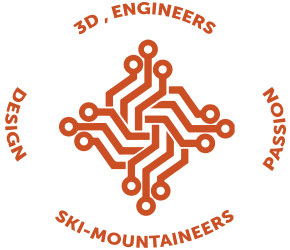 The OGSO team are young digital and 3D experts combined with highly experienced ski-mountaineers, we want to share our passion with you.
All designs, 3D, engineering, and communication is made in our offices.
By making hundreds of prototypes with different components, constructions, shapes and innovative materials, realizing our own compositions and products such as carbon-kevlar fibres we have created a ski, with which you can go to places you have not dared to go before, you can go out and discover new boundaries, you can extend your limits. With the wide tip & tail you have the feeling of surfing, an unexperienced sensation of balance, and an all-time control.
People at a very good level will go more to the edge because with ogso-ski they can go faster, brake later, turn more precise, go steeper, be safer, ski anywhere at any condition whatever the snow, even on hard snow, even on bad snow and go longer because of all these advantages.
People with a lower level experience a fantastic and quick progress and have access to a new ski world.