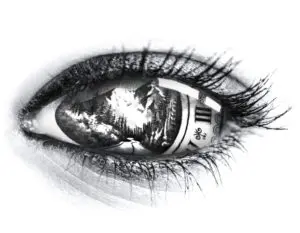 I'm the mountain in your Eye
Looking at you, I can read your mind
No need to see any more to perceive you yearn to climb my spine
The sparkle in your eyes make some of the dreams worth believing
Constrain false illusions as winds might change my mind
The fire blazing through your head risking spirits to be extinguished
At no time forecast my pity…you've taken lots of Chances before
That's how it goes
forasmuch as you respect me
– Inspired from the Alan Parsons project "Eye in the Sky"
WHEN POWDER GOES SILLY…
WE GO HILLY!
WE ENJOY THE SIMPLEST THINGS IN LIFE. 
Big mountain skiing is like meditation: the cold wind at the top of the mountain empowers us to be in the moment of our amazing adventure.
WE DON'T LET THE STORM GET TO US. 
Although we might find ourselves in quite stressful situations, we don't freak out. We have the mindset and the experience to manage. We're well prepared.
We're addicted to mountains. They're a true paradise on earth, baby!
…and our stomachs churn in that beautiful butterfly way.
Like a swirling tornado storming in our souls, they teach us to become strong and steady.