Last season I was given Ogsos Krumpe for testing and is, therefore, next to the Danaides (test here) and the Cosmique (test here) my third narrower ski from Ogso. I am very convinced of the Danaides and have very often strapped it in the trunk as a backup on lift days or on days with changing conditions in the ski resort. The Cosmique has been my touring ski for everything for three seasons and is often used when it goes a lot uphill due to the light construction.
Last winter was out of the norm and this winter starts again very strange – rising corona numbers and a lockdown in which we are allowed to ski do not quite go together for me. But I'm certainly not going to complain that we're allowed on the slopes. Unfortunately, there is currently hardly any snow that would be enough for great skiing days – but that should change soon.
Unfortunately, I wasn't able to test the Krumpe as far as I would like for a review last season – corona-related travel restrictions and closed lifts – and was only now able to ride it sufficiently for the delayed season opener.
The Ogso Krumpe has a middle width of 86 mm in 180 cm – in my length – and is therefore one of the narrower skis that Ogso has in its program.
It belongs to the 80s series and is equipped with Ogsos Neoteric Camber as well as the long tip with a lot of early taper, which is typical for Ogso Ski. A poplar wooden core with an upper and lower belt made of fiberglass makes it heavier than the Ultralight skis, but also much smoother and more stable at high speed. The tail is slightly rounded and pulled slightly upwards, which makes it much easier to loosen the edges.

I tested the Krumpe with a Look Pivot 14, mounted at 74 cm from the end of the ski and not at the manufacturer's specification of 77 cm, as well as with my Lange XT3. I had strapped on some of Ogso's skis in recent years and had more fun with the Neoteric skis when I put the mounting point two to three centimeters behind the recommendation. This gives them more buoyancy in the powder and makes them run smoother straight ahead, which suits my brisk driving style. The Superrocker skis, however, I mount according to the manufacturer's instructions or even a little forward – half or a whole centimeter.
This is what the manufacturer says
KRUMPE is a MEDIUMLIGHT all-mountain, freeride touring ski that whose edge-to-edge quickness and power through the turn makes it a solid and precise carving machine.
If you're looking for an all-mountain freeride touring ski that is as good at railing turns in your favorite resort as it is sending steep couloirs in the backcountry, the KRUMPE is the ski for you.
Performance
In short, the Ogso Krumpe is a rock-solid piste ski that goes along with everything! Be it hard or rough slopes, something next to the slope in deep snow, or in spring slides on southern slopes.
Except for complete ice slopes, where hardly any "non-racing ski" cuts a good figure, the Krumpe has convinced. Long and short carving turns at high or slow speed, short stemming turns down a steep and crowded slope or even a detour into the forest that was torn apart in the morning is a real pleasure.
Basically, I would settle the Krumpe much more slope-oriented like the Danaides, which then pulls much more into the terrain due to the middle width. However, the Krumpe is also much easier to drive, as it has a much softer flex than the Danaides and thus requires less power to push it into the corner.
Most of ogso's neoteric skis I've ridden so far haven't really been forgiving and you had to ride exactly to exploit the potential. The Krumpe is a bit different here – it forgives more and doesn't need as much power and speed to get going.
But just because it's not that demanding doesn't mean you can't drive it aggressively – quite the opposite! The Krumpe is similarly quiet as the Danaides to very high speeds on the snow. And that's what I think is its greatest strength over the other Neoteric skis – it doesn't require a minimum speed, but at high speed, it can definitely keep up with the smoothness of the other wider and heavier skis. This is especially noticeable in carving turns, which can be done well even at higher speeds without reaching the limits of the ski. He remains reactive, forgiving, and gives excellent feedback throughout the swing. Only the strong pop at the end of the curve, which the Danaides delivers, you can not feel quite so clearly with the Krumpe, if you do not push it fully in steeply inclined positions.
Even with short radii and slow pace, the Krumpe seemed neither sluggish nor boring to me. Even at slow speeds you can carve with it or drive short stemming turns. If you are a bit faster on the road, the end of the ski can simply be pushed out without much effort to throttle the speed.
What surprised me a lot is the performance in deep snow or in crushed powder. After a morning with the Schwarztor, I changed in the afternoon to the Krumpe and drove off the beaten track and in the forest. One thing must be clear – the Krumpe is not a powder weapon and not as off-piste-oriented as the other Ogso skis. But still, the buoyancy was really good according to the middle width and the ski could be maneuvered effortlessly through the forest. However, high speeds and extreme stability should not be expected here.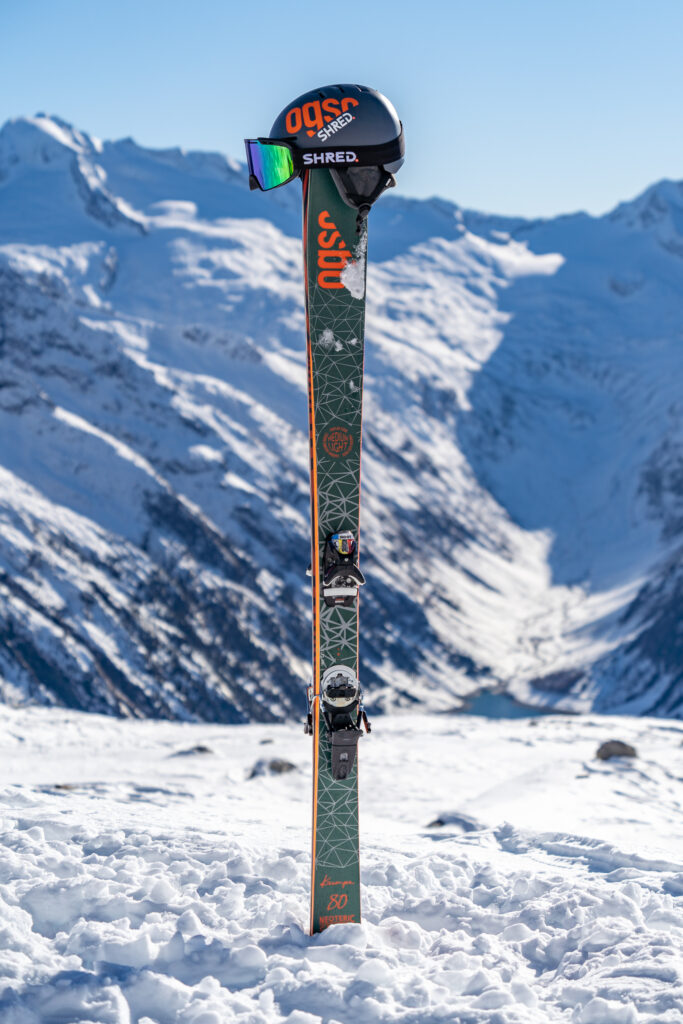 Result
Similar to many other Ogso skis, the Krumpe is very broadly positioned and cuts a very good figure in many conditions and in many riding styles. There are certainly better skis for the individual conditions or styles, each of which performs better, but has to make compromises in other areas.
Overall, the ski forgives many mistakes and rewards good technique. Therefore, in my opinion, it is suitable for a variety of skiers who are looking for a piste ski for the whole season and possibly also want to go off-road. I think that it is also well suited for beginners, as it forgives mistakes, requires little strength and you can do a lot with it – almost as a beginner, you can get a taste of many areas of skiing.
I can't recommend it as a freeride or pure off-piste ski – it lacks the middle width for that and is too heavy as a touring ski. But for short detours into the terrain, it is always available.