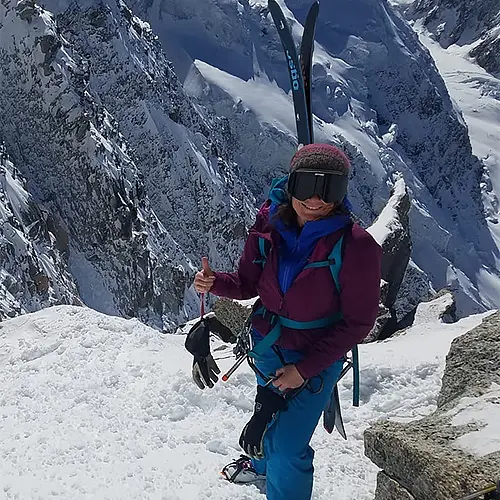 Blanka Sepulveda
Born 29 September 1975 in Czech Republic. 
I grew up near the Beskydy mountains in Czech Republic. I did not spend my teenage years skiing but horse riding! Later I became totally addicted to rock climbing and mountaineering which changed my life and eventually brought me to Chamonix in 2003. I discovered skiing and ski touring here and became super passionate about it. As well as my friends, it is the mountains, our local playground, that is keeping me here in Chamonix!
Favourite activities: off piste skiing, ski touring, ski mountaineering and rock climbing.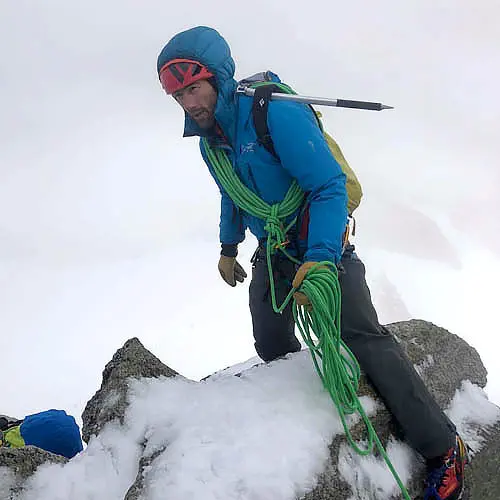 Corrado « Korra » Pesce
Born at Galliate in Italy the 09/06/1981
I moved to Chamonix at the age of 19 and began guiding in 2011.
I have climbed many iconic mountains in wonderful locations such as Nepal, India, Patagonia and Canada.
My passion and commitment has pushed me to test my skills on some of the Alps most difficult and technical climbs.
Preferred mountain activity:
Climbing rock and ice on the biggest walls and the most beautiful mountains.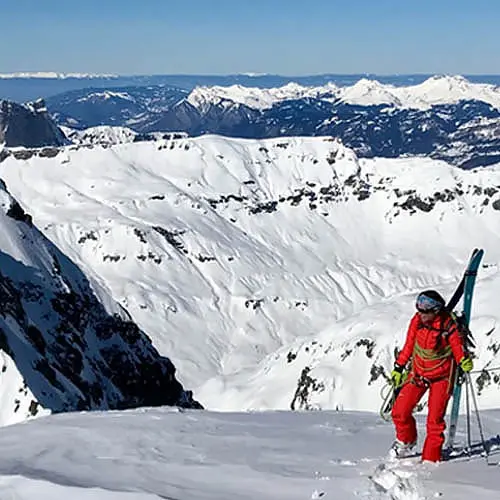 Elodie Le Comte
Born 05 august 1978 in Genava- Swizerland
I was born and raised in Switzerland, near Geneva. I discovered the mountain late, during a trip to Latin America after my baccalaureate. I worked for 8 years as a researcher and professor of history at the University of Geneva before graduating as a Mountain Accompanist in 2012, then as a Mountain Guide at ENSA in 2015. Since then, I have close to Chamonix, where I share my time between the activity of "classic" guide (within the Chamonix Experience team and as independent with my private clients), the training of the guides as a trainer at ENSA, and the coaching of young mountaineers for the FFME National Mountaineering Team. And of course, I spend all my free time climbing, traveling and exploring the mountains in the Alps and around the world!
Favourite activities: climbing and mountaineering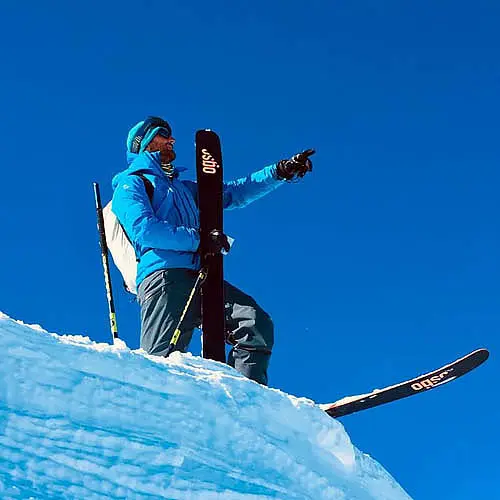 Eric Jamet
Born 28 June 1988 at Briancon
I grew up on skis, tried everything: slope, racing, freeride, freestyle, steep skiing, ski touring, ski mountaineering.
What i prefer is to discover new orisons with my ski touring skis, but i never say no to a big powpow day.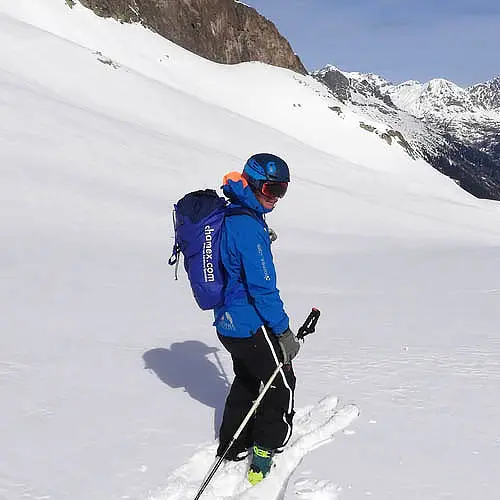 Johann Courcelle
Born in Chamonix the 18th of July 1975
I was born in Chamonix with skis on the feet, though I started to work as a sailing instructor on the west coast of France near Bordeaux and as a ski instructor in Les Orres first and completed my exams respectively in 1997 and 1998.
I definitely turned my look on the summits in 2000 and began to train to become a mountain guide in order to stay in Chamonix all year around. 
I completed my Uiagm course in 2007 and worked as a guide ever since. 
I have been travelling from New Zealand to Alaska and l love discover new places while climbing, skiing or simply hiking. 
I opened a few lines in the valley either with skis, snowboard or telemark. 
Calm and patient, I really love to teach my guests and get them better in all activities. 
When I am not in the mountains you can find me with my family or taking pictures or flying a drone which is my most recent professional qualification"
Favourite activities: ski-touring during winter time and classic alpinism during the summertime.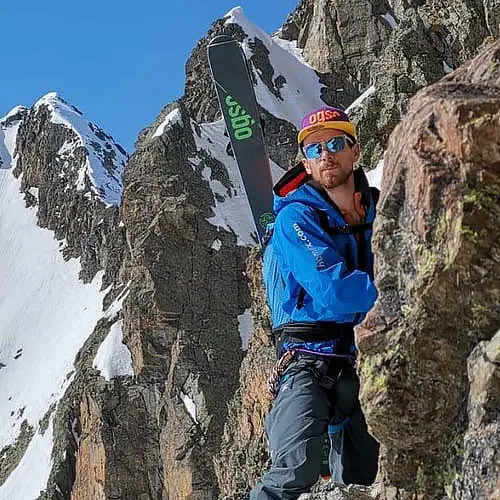 Maël Baguet
Born 25 July 1989 at Grenoble, France.
Growing up in a city surrounded by mountains, Mael started skiing, snowboarding, climbing and mountaineering at a very young age. His passion for mountains led him to his UIAGM mountain guide qualification, which he achieved in 2015.
Favourite activities: Going fast in the mountain is my passion! Skiing, flying, falling, rolling…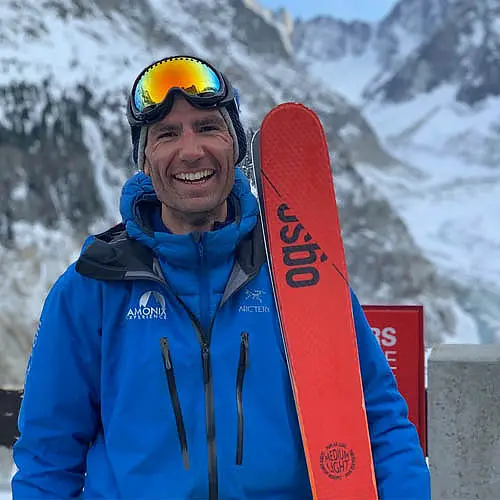 MICHEL Julien
Born 21 May 1985 at Grenoble, France
I was born in Grenoble with direct access to the mountains. I started traveling the mountains from a very young age around my home. And then this passion pushed me to explore mountains further and further. First in the Alps then in Peru, Pakistan, Nepal, USA, Morocco, Jordan. I have always had a lot of fun sharing and transmitting my passion for the mountains. This naturally led me to the profession of guide which I graduated since 2015.
Favourite activities: skiing, ridge run.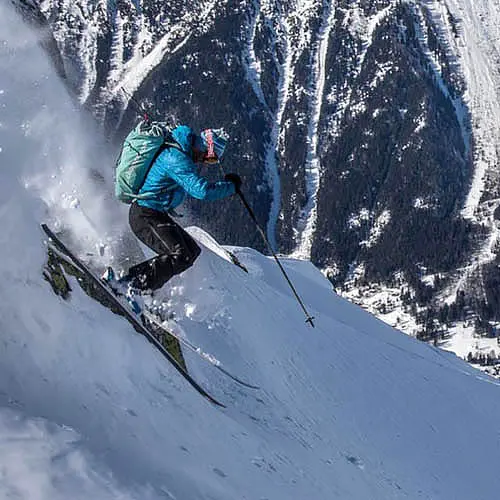 Olivier Pujol
Born 23/09/1973 in Grenoble
Olivier spent his childhood on skis, chasing after ibex around the mountains. He realised his dream and qualified as a UIAGM mountain guide in 2010.
The OGSO Marinelli skis are Olivier's choice, as he prefers big skis that are stable and solid for going fast.
"I prefer to ski full on off-piste rather than ski touring in the winter." Olivier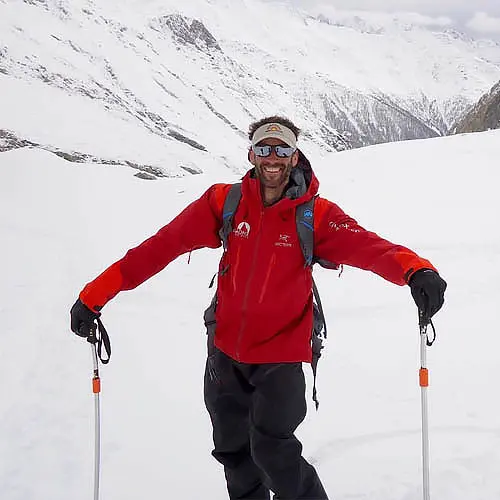 Pete Mason
Born July 25, 1974 in Norwich, New York USA
I grew up in central New York state and hiked and cross country skied from a young age. I discovered climbing in college and moved to Colorado to pursue my love of skiing and climbing. I moved to France in 2003 and passed my guide's exam at ENSA. I live in Courmayeur, Italy with my wife and daughters. I am the 2nd American to become a French mountain guide. I enjoy all the mountain disciplines!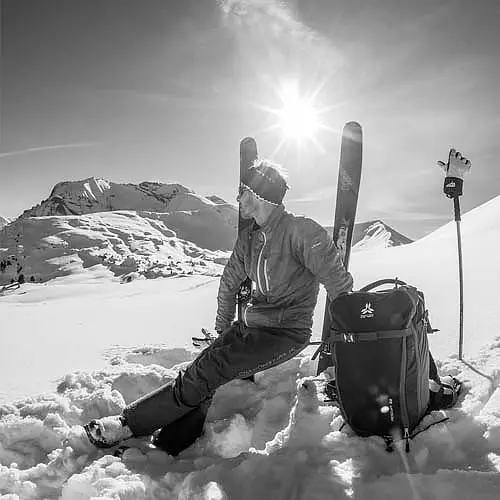 Raphael Thiot
Born the 19/10/1976 at Romans sur isère 
Discovery of the mountain in 1992 by a waterfall in the Ecrins massif, relearning skiing in 1993 by ski touring and quickly ski mountaineering … I have never managed to get rid of my passion for the mountains and even less of the desire to share it.
Ice and mixte climbing, rock climbing, travel in mountain with my skis…this is what I love to do.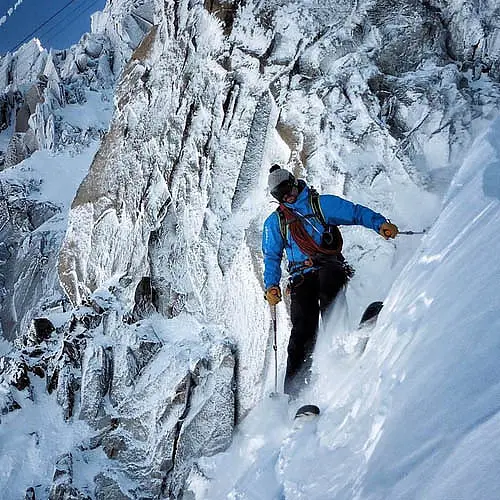 Sebastien 'Bastiou' Corret
Born in LOURDES french Pyrenees in 1979
Ski instructor (2000) and Mountain guide (2006)
I like to climb anything as long as it has rock, snow or ice
I like to ride anything as long as it has …. snow
I like to ride any snow device except snowshoes and snowblades
I like Marylin Manson and Vivaldi, Burgundy wines, powder snow after rain
I hate snow shoes and snowblades, rock falls, rain after powder snow
I've been travelling the world in the quest for my dream summit (Pyrenees, Alps, Northern Africa, Central Asia, Himalayas, South America, US….), still looking for it!